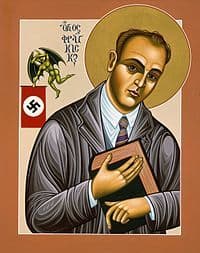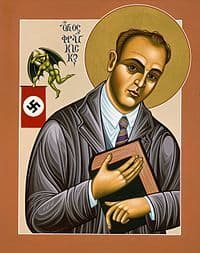 Around the world are men and women willing to obey the orders of their governments or states to launch nuclear missiles.
At the last count, I know one missile per day could be exploded for 96 years – imagine the horror locked up in that number. Those who would launch them know that millions of innocent helpless people would be killed or maimed, but still they are willing to do it. Would you obey the order? Would you be supported by your faith, your church, your God?
Franz Jägerstätter will soon be canonised as a saint. He refused to enlist as a soldier in World War II, not approving Hitler's murderous wars in Eastern and Western Europe. Franz' local priest and bishop failed to persuade him it was his duty to enlist in the army. He died for his refusal.
The Church now recognises him as a martyr for conscience. Good man. Weak, cowardly religious men told him he was wrong. The Church tells them they were wrong and Franz was right.
Conscience is greater than State or Church or Tribe. Read the pastoral letters of the German bishops during Hitler's regime and the war – and cringe with shame. Read the craven apologies given to their people by the bishops of Germany, Italy, Argentina (the dirty war), Chile (after Pinochet), that they had shown moral cowardice against the political powers. The lesson is clear: Governement and Church may have power but they cannot rule or dictate conscience.
When I posed the questions for you in last week's homily and simply asked you if you were glad or angry I wanted you to test yourselves. Do you think as a Christian or as a nationalist? Are you politically/nationally biased and colour questions according to your prejudices?
We believe in a loving God whose love is for everyone, not simply for those approved of by Church or State. It is arrogance to limit God's love. We see such hatefulness in parts of Islam clearly today but it is throughout religious history and may be in our hearts, too. It is sickening to hear Catholics to put other considerations as more important than God, God's love, Christ's teachings.
How do you form your opinions, your convictions, your conscience? God bless us that it is in God's love we make all decisions.
Fr John
(29th July 2018)
Related Links: Popular Reads and Fr John's Parish Newsletters