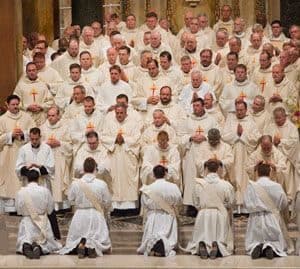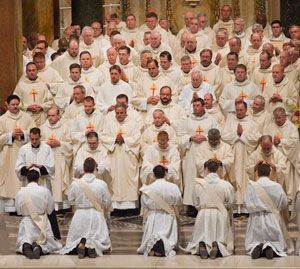 Would you like to see married priests? No. Would you like women priests? No, no. Would you like to see a married woman priest become a bishop? No, no, no. Nonsense. Fifty years ago in the Church of England they would have said "Nonsense". Today, married women bishops are a reality.
There are more women than married and unmarried men in the Church of England ministry, yet we in the Catholic Church are still better off for priests than they. Married and women priests have not solved the problem of ministry for the other churches and we must doubt they would solve our problem. The truth seems to be that few men or women want to serve as priests or ministers in our Christian churches.
Would you persuade your son or daughter to become a priest or member of a religious order? Don't. If they are unhappy in the choice you expect of them (we sadly have too many examples) you will have blighted their lives. Would you even persuade your son or daughter to marry? How would you answer if/when they blamed you for their unhappiness?
We encourage one another to do what is best, to fulfil our capabilities, not to waste our talents: all good; but to determine or dictate a way of life is not a parent's role. We learn of lives crushed because of parental ambitions. No good parents crush or crash their children into unhappiness.
Bishop Patrick has written a letter, asking us to pray for vocations to the priesthood and religious life. The Gospel encourages such prayer. We shall pray. If I pray for the poor and hungry and homeless but give nothing to provide for them my prayer is empty and pretentious. If I pray for vocations but do nothing, is my prayer empty? If I want others to offer their lives to God and don't offer mine, my prayer is pretentious. God and Bishop Patrick don't want empty prayer. How shall you pray?
Not so long ago the Catholic world had junior seminaries, postulants, and children as young as nine to thirteen were invited to a free education in the hope a number would stay in gratitude and then become priests and religious. Shall we return to that system? It gave us good numbers but also the horror of hidden unhappy lives.
Vocation is a mystery and it won't be solved by a few words thrown in God's direction. How will you pray?
God bless us all in our vocation,
Fr John
(23rd April 2017)
Related Links: Popular Reads and Fr John's Parish Newsletters