This week we celebrate the memory of Jesus' suffering, and the centre of our prayer is the "Triduum" – the three days of Thursday, Friday and Saturday.
SUNDAY Jesus had a meal at the house of Martha and Mary and their brother Lazarus. There was an argument and St. John tells us that Judas was angry at the waste of Mary's anointing Jesus' feet with precious ointment.
MONDAY Judas agreed with the Jewish authorities to betray Jesus, knowing Jesus would go to the Garden of Gethsemane after the Paschal Meal (The Last Supper).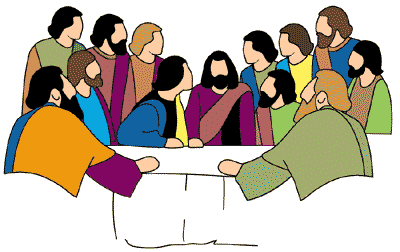 TUESDAY evening, Jesus and the disciples celebrated the Paschal Meal. (Israel celebrated the Paschal Meal on the 14th day Nisan – but two different calendars were in use in the Holy Land in Jesus' day: the "Solar" (Sun) and the "Lunar" (Moon). According to the Solar calendar the 14th day Nisan was always a Wednesday, so the Paschal Meal would be held on the Tuesday evening; but in the Lunar calendar the 14th day Nisan might be any day of the week (like our Christmas day). That year it was on the Saturday, so the Paschal Meal was on the Friday evening – hence the hurry to take Jesus' body down from the cross, before the Great Sabbath and the Paschal Meal began at 6.00 pm. (We know that Christians celebrate the birth of Christ on various days, most commonly 25th December and 6th January. We need not be surprised that the Jews celebrated the Paschal Meal on different days, according to their different traditions and calendars.) Jesus was arrested that Tuesday evening.
WEDNESDAY Jesus brought before the Sanhedrin (the Jewish Religious Court) and many witnesses were called, the Gospel tells us. (All trials had to take place during the hours of daylight, and if a sentence of death were passed 24 hours had to elapse before the sentence was confirmed.)
THURSDAY Jesus brought before Pontius Pilate, then before King Herod, and then, again, before Pilate. Pilate confirmed the death sentence, washing his hands of innocent blood.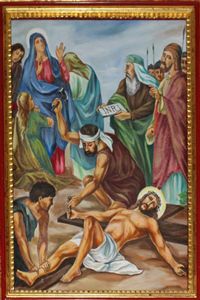 FRIDAY Jesus was crucified at the third hour (about nine o'clock in the morning) and died at the ninth hour (about three o'clock). His body was taken down from the cross, wrapped in a shroud and laid in a tomb – all before the twelfth hour (six o'clock) and the beginning of the Great Sabbath, the Pasch.
SATURDAY Jesus' body lay in the tomb. The disciples and the women from Galilee mourned, and the women prepared spices and ointments to give Jesus' body the full burial rites when the Sabbath was over. But we believe that Joseph, Nicodemus, Our Lady and St John went to the tomb that evening (the Sabbath ended at six o'clock) and gave Jesus' body the full burial rites, wrapping the body in winding cloths. The women did not know.
SUNDAY Jesus rose (was raised) from the dead. The women and disciples went to the tomb and found only the winding cloths.
God Bless us
Fr John
7th March 2016

Related Links: Popular Reads and Fr John's Parish Newsletters