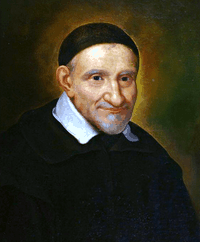 Today we have our annual retiring collection for the St Vincent de Paul Society (SVP) to help them in their work in the parish, the nursing homes and the hospital. The SVP members regularly visit those who are lonely, who are sick and are in need in any way. The inspiration of their fine work is the saint who realised how selfish and self-centred his life had been, how he had hardly regarded the poverty and pain of the people around him – so concerned was he for his own comfortable life. Many have followed his example of reaching out to those in need and the parish is grateful to our own SVP Society for its local work and for the help it gives to two conferences with which it is twinned in India. If anyone in the parish were willing to play an active part, please speak to any member of the society or to me.
Fr John Garry enjoyed his visit to the parish last week. We shall be able to announce next week how much the retiring collection was for the work of the St Patrick's Missionary Society. Fr John told the Sisters how at home he felt and I am glad that he, like many others who have come to ask for our help and prayer in their work, have felt at home.
We felt at home in Padua, staying in the Casa del Pellegrino just near the Basilica where St Anthony is buried. We had a wonderful week: mass every morning in the basilica and then days exploring Venice, Verona, Padua itself, and driving to Lake Garda and into the Dolomite Mountains. Each day we prayed together and found our own times and places of prayer. It was a happy and friendly group of people from our local parishes and some friends from further away. The hotel staff told us how much they liked our group, finding them friendly and appreciative. Our only disappointment was a delay of some hours at the Venice airport so that instead of arriving back at St Joseph's on Thursday at 11.00 pm we arrived at 8.00 am on Friday morning.
It is good to be home and good to have been on pilgrimage.
God is everywhere and blesses us,
Fr John
(25th September 2016)
Related Links: Popular Reads and Fr John's Parish Newsletters