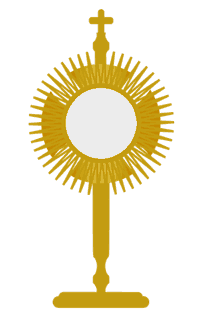 Bishop Patrick has asked that all children in our schools should be given the experience of praying in front of the Blessed Sacrament. On Tuesday I took the monstrance from St Joseph's Blessed Sacrament Chapel to the school. The children and teachers were in the hall. I explained how praying before the Blessed Sacrament came about in our churches, and then guided them in prayer:
(1) They prayed for themselves, asking God to help them to be good and kind . . .
silence.
(2) They prayed for families at home and wherever they were, including wider family living elsewhere . . .
silence.
(3) They prayed for friends here at school andathome . . .
silence.
(4) I reminded them that some girls and boys are unhappy at home and at school, so pray for them that they be given love and friendship . . .
silence.
(5) I told them about children who had no home, no school, lived on the streets and had no one to care for them, and about Fr Peter and 'Let the Children Live'. Would they pray for girls and boys who had no home, no school. They did . . .
silence.
It was over. I told them how glad I would be to see them all again on Wednesday, my normal visiting day, but I had to go back to St Jospeh's because people were waiting for me and to put the monstrance with the Blessed Sacrament back in the chapel. I told them there were many ways in which they might pray but to remember those five as a help:
(1) For themselves; (2) For their families; (3) For their friends; (4) For girls and boys unhappy at home or at school; (5) For girls and boys with no home or school.
I left the hall and went to the headteacher's office to pack the bag and collect my coat. The headteacher came in and said:
"There was silence when you left and they have all walked out in silence. No one has spoken. They knew an atmosphere of prayer. That was lovely."
God bless them and us to pray
Fr John
(23rd December 2018)
Related Links: Popular Reads and Fr John's Parish Newsletters