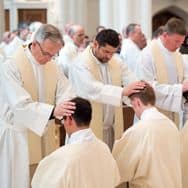 The Tablet is our principal international Catholic journal in the English-speaking world. In a recent edition, Bishop Crowley suggested that the Church should look at the possibility of ordaining women to the priesthood. I sent the following letter to the Tablet, supporting that view, and an edited version is in this week's edition.
"Bishop Crowley is right. We must discuss the ordination of women to the priesthood. Part of the discussion was completed in 1974 when Pope Paul VI's Biblical Commission told him there was nothing scriptural or theological against the ordination of women. The Church will not go back on that judgement."
"The Commission said the barriers were cultural and historical. Now is the time to take down those barriers. The horrors of clerical abuse of children tell us that the failing Institution needs to be rescued and reshaped by the Mystical Body, as has happened down the centuries by saints taking on unworthy men in authority. "No woman bishop would have covered up child abuse by priests. Her natural nurturing love would have heard the child in a way that frozen celibate men did not know how to."
"We need women in places of authority. We are ready for those cultural and historical barriers to come down: the scriptural and theological questions have been spiritually and intelligently answered."
"The horror of child sex abuse must also awaken us to the shame of sexual closets in the Vatican, seminaries, diocesan life and monasteries. The (institutional) Church has proved it does not know how to regulate itself, as the Tablet's fine leading article concluded last week."
"Women must be given their rightful place in the structure of the church, helping infuse the again-failing Institution with the grace of the Mystical Body."
We pray for God's guidance in each new age of the Church. Jesus promised the Holy Spirit would guide us – he did not leave us the answers but promised us guidance.
God bless us,
Fr John
14th July 2019
Related Links: Popular Reads and Fr John's Parish Newsletters