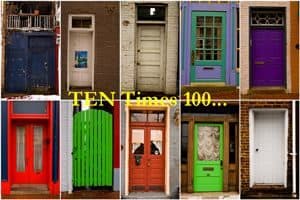 Early in my parish life I was at a clergy fraternal, ministers of the local Anglican, Methodist, Baptist, URC Churches welcoming me to the area. Good men, and we worked well together over the years. The Baptist minister and I walked partway home together before he left me to visit one of the elderly in their church. "We Baptist ministers are expected to make a thousand visits a year," he said. What an ideal, I thought, and I made up my mind I would take that as a guideline.
One thousand per year equals 20 per week. Allow for weeks not possible (weather, other priestly work like retreats, hospital, schools, conferences, pilgrimages, meetings) and that rises to 30 per week, 5 per day. Allow that the housebound, the sick at home and in hospital and in our nursing and care homes would need my first consideration, and it becomes clear that the thousand visits will not be to a thousand homes but must include regular visits to the needy, the lonely, the sick.
Every day I spend the morning at prayer, at mass, at my desk, on the phone, meeting with people and at the schools. Every afternoon I am out in the parish or at the hospital, aiming to make at least five or six visits. I so enjoy the visiting, regret not being able to visit more – but when would I do it? Trying to plan home visits, given people's widely differing lives, is not easy. If no one is at home I say a prayer at the door and leave a card of a smiling Pope Francis (it used to be smiling Pope Benedict and smiling Pope John Paul) and go on my way.
It is a privilege to be welcomed into people's homes, but the pattern of home and family and work life is very different from years ago. One of my priest friends walked his parish for two and a half hours and found no one at home anywhere and told me how disheartening it felt. I agreed it is much harder than years ago to judge good visiting times.
As my ability to walk has weakened in recent months it is parish visiting I have most missed. But, as when you were not at home (at work, school, shopping, visiting yourselves, gone for a walk, in the garden) and I prayed for you at your door, I now pray for you back here at No.12 Goodwood Road. I am still clocking in my thousand visits in prayer . . .
God bless you for your understanding,
Fr John
(25th June 2017)
Related Links: Popular Reads and Fr John's Parish Newsletters