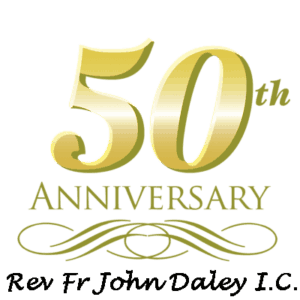 Today I celebrate 50 years of priesthood. Thank you for being here in your prayer, as are all those I would love to see today but who are here, also, in prayer.
There were 600 people in my home church of St Alban's in Cardiff that happy day in 1967 – family, brethren, friends, neighbours and parishioners whom I had always known. I knew everyone in the church. It was a glorious day.
And so have been the succeeding years, serving God and the Church in various ways and in different places. The beginnings in Cardiff, a happy family and good friends in our Welsh homeland and Irish Catholic community – these were the foundations of my life. A desire to live and serve God developed deep within me and I knew that would be my first choice if I were accepted. I was, and the Institute of Charity (the Rosminians, named after Antonio Rosmini, our founder) guided my vocation.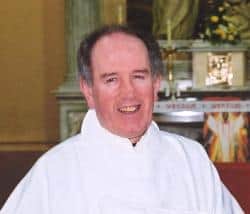 They sent me to study at Cambridge University (three fascinating years, taught by well-known scholars and playing rugby and cricket alongside international players), to Rome (four wonderful years), to Ratcliffe and Yorkshire to teach (more happy years), allowed me to go on loan to an inspiring Bishop O'Grady in his missionary diocese on the edge of the Canadian wilderness (two breath-taking years), sent me to New Zealand to open our novitiate house, teach and preach retreats (three more wonderful years), brought me home to Newport in Wales, near family and friends for eight more happy years, then to Wisbech in East Anglia for six happy years of parish and diocesan work, and finally to Leicester in 1990 where I have been very happy at St Theresa's and St Joseph's.
Could anyone be more blessed, I wonder? I grew up Welsh and Irish, became proudly British, in Rome I was European and of the Universal Church, and in Canada finally realised I simply wanted to be part of the human family. I had arrived. God had allowed me to experience what I might never have been able to understand.
And all the time God was there. Our Rosminian way of life asks three hours of prayer each day – all my loved ones, living and dead, all the people and students I have served, all there each day in my prayer. How much more happiness must I bear before God calls me home?
Today, I thank God and everyone. I have been so blessed.
God bless us,
Fr John
(2nd July 2017)
Related Links: Popular Reads and Fr John's Parish Newsletters