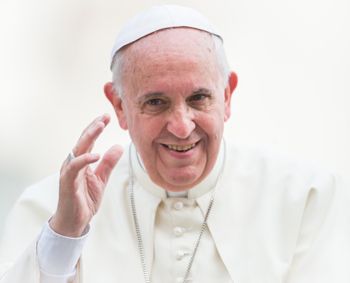 The story begins last September when Ethan became a little afraid on his first day back at school and went to a quiet area where Pauline was working. She says "He had a little wobble and came to this quiet space. I'd just returned from a visit to Rome and showed Ethan a picture of me standing very near the Pope as he gave a little child a hug.
"He said that it was lovely and that he'd love to give the Pope a hug himself. I thought no more of it until I was talking to his mother who said Ethan wanted to know everything about Pope Francis when he came home later that day."
When Pauline was returning to Rome last month she asked Lorraine, Ethan's mother, if she would like her to bring a message from Ethan. She did, and Ethan wrote in the letter that when he feels afraid or worried he thinks of Pope Francis and feels safe and happy again. Ethan also wrote that the Pope had a special place in his room where he said a prayer each day and he hoped one day he would get to give him a huge hug.
Pauline addressed the letter to His Holiness and posted it in the Vatican but told Ethan when she came home that while Pope Francis might not write back because of all the letters he received he would be sure to read it.
He did read it and a letter arrived at the school, addressed to Ethan from the Vatican. As Ethan opened the envelope he said "I knew he'd write to me. Wait till I tell my Mam, I might now get to give him a hug because he read my letter."
In the letter was a blessed medal and in the newspaper report that Paddy Darby gave me this week is a picture of Ethan and the junior infants in his classroom, with Ethan holding his medal.
The Pope's secretary wrote "The Holy Father was happy to receive your letter and asked me to reply to you. He is glad to hear that you turn to the Lord in your needs. He sends warm wishes to you, your family and your teachers."
You can imagine how pleased I was to share this story with Paddy and the family this week. Ethan is Paddy's brother's grandson. I said how I would like to share the story with the parish.
God bless Ethan and family,
Fr John
(15th January 2017)
Related Links: Popular Reads and Fr John's Parish Newsletters