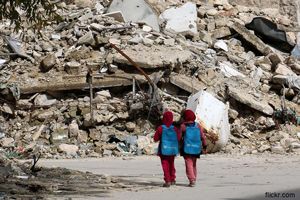 On Monday and Tuesday, I had four funerals. On Wednesday and Thursday, I was arranging a further three. Please pray with the sadness of the families, now and in the future. You know that Christmas will always remind them of this sadness. The people of Aleppo are still in a desperate situation. You will have been following their plight on TV, the horror in which they have lived that will continue until the rebels are defeated. We pray with them and wonder at the powerful men and women who supply the arms and who want victory at any cost to the helpless sufferers.
One of the principles of a just war (did you ever study that strange analysis of when and why it is good to kill innocent people?) is that there must be the possibility of victory or peace. There has been no such possibility in Aleppo (and other parts of Syria and Iraq) for a long time. President Assad and his Russian and Iranian allies are too powerful for the motley rebel groups that oppose them – there is no unity there – and are certain to win. The United Nations is powerless, the West will not directly intervene, but the rebels prefer to kill and die rather than retreat and allow some sort of peace to be established.
To where would they retreat, we wonder? No one wants them. The battlefield is all they know. To fight and die is the hopeless option they have chosen now for a long while, and the civilian population has seen the destruction of their city and the deaths of so many of their loved ones.
The voices of the Faiths have appealed for the cessation of conflict, and the Christian voices (we hear them each week in the Catholic press) tell us that President Assad is the least worst option – his rule seems to promise a less oppressive regime than one the divided rebels would set up.
Our Christian brothers and sisters live the horror along with their fellow citizens and ask us to listen to them, pray with them, heed their calls for compromise and an end to the violence, knowing that true peace will be still a long way off.
Parish sadness, Middle East suffering, genocide in South Sudan (a Christian country) – we belong to each other in God's world.
May God bless us,
Fr John
(4th December 2016)
Related Links: Popular Reads and Fr John's Parish Newsletters