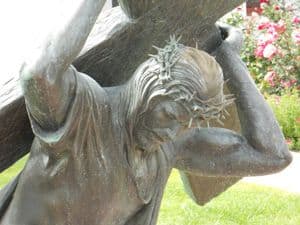 Thank you for your comments on the homily of last week and your expressions of sympathy for the many thousands of children abused over the years and the terrible hurts they have carried into their adult lives.
Our professor of Church history advised us we have to know the worst because those who detest the Church do and we have to be ready to acknowledge the truth they know before we try to defend what and whom we know and love.
Christ suffers with his church in every age. The crucifixion is an ever-present reality – Crusades, Inquisitions, The Reformation, horrifying wars between Christian countries (Europe) and tribes (Rwanda and South Sudan, for example), and corruption at the highest levels. We have had vile popes – look up Benedict IX and John XII to start, and cry – and many unworthy churchmen.
Now it is our turn. We deserve the condemnation given the Church over child abuse. Just this week in the USA state of Pennsylvania three diocese have admitted a culture of sex abuse and cover-up going back seventy years, involving over 300 priests. Mary McAleese, former President of Ireland, revealed last week an approach from Cardinal Sodano asking for an agreement between the Holy See and the Irish government under which Church documentation would be protected and the state would have no access to it. He wanted to prevent damning Church and Government archives being released. She refused.
The new archbishop of Melbourne in Australia says "Melbourne has been an epicentre around the sexual abuse crisis. I'm walking into that history of some absolutely terrible abusers." We pray for him and the other courageous men and women of the church who are speaking out so that the truth be known and reparation made.
You may recognise the name Patricia Heaton, who comments on the USA bishop's statement on abuse: "The laity does not care how much shame you feel… we want all those who perpetrated and covered up sexual abuse OUT. You had your chance to help and you failed," and she advises people to go straight to the police.
There is so much, too much, but we are glad it is becoming known.
God bless us,
Fr John
(19th August 2018)
Related Links: Popular Reads and Fr John's Parish Newsletters