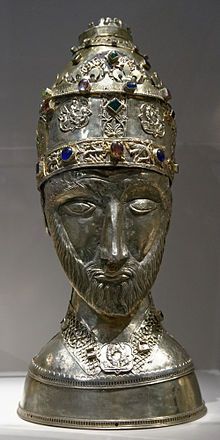 Every now and then I catch my breath at how blessed my life has been. It happened again, just before morning mass on 31st December – the feast of Pope St Sylvester. The whole story flooded back . . . Pope Sylvester was the pope of the era of the Emperor Constantine – who gave freedom to all religions after the cruelty of the periods of Roman persecution: by the Edict of Milan all people were free to honour God, or their gods, as they chose. In the background was Constantine's mother, Helena, an English princess, who had married Constans when he was based in York as head of the Roman legions in Britain. Helena was a Christian. She followed her son to Rome, became friendly with the Pope and persuaded her son to give Sylvester the Lateran Palace as his dwelling. Part of it still stands, just across the road from the Lateran Basilica which she persuaded her son to build as the Pope's church. It is still the No.1 church in Rome and St Peter's is No.2.
Beside the basilica is the Lateran University where I studied for four happy years. Each day, after lectures, I would slip into the basilica for a quiet prayer of thanksgiving, aware of the history I was sharing: in the square, the oldest and biggest of the thirteen Egyptian obelisks around the city, signs of Ancient Rome's conquests; across the road the Holy Stairs, supposedly from Pontius Pilate's palace in Jerusalem, which Jesus would have ascended, alongside the striking remains of the Lateran Palace; I prayed in front of the lovely 13th century mosaic in the apse of the basilica; and then out by the main entrance of the church to follow the awesome 4th century Aurelian Walls on the walk back to our Rosmini College, where a stretch of those huge defensive walls were our garden wall – the garden in which I would be working or playing touch rugby in the afternoon. Pope Sylvester, I thought, I've a lot for which to remember you.
And then – The Donation of Constantine, the biggest lie in the history of the Catholic Church. If you want to know the full story research (Google) it, but here is a summary: A Papal official fabricated a document in the 8th century to claim that Constantine gave power over Rome to Pope Sylvester when he moved to Byzantium (which he renamed Constantinople). The lie was believed by Pepin, leader of the Franks, who rescued Rome from invasion and protected the popes' rule over Rome and the Papal States. The power of the Papacy down the centuries based on a lie! It is an amazing lie but believed by Europe for centuries. In 1870, the Italian people took Rome as their capital city in a newly united country. Follow the story.
God bless the Church, freed from temporal power and its corruption,
Fr John
(5th January 2020)
Related Links: Popular Reads and Fr John's Parish Newsletters