Extract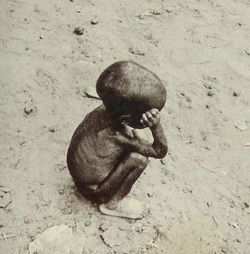 As Jesus watched people make their offerings in the synagogue including, a poor widow who put in the equivalent of less than a penny He said, "I tell you the truth, this poor widow has put more into the offering box than all the others. For they all gave out of their wealth. But she, out of her poverty, put in what she had to live on, everything she had". (Mark 12:43)
Thought
Wealth is defined as having an abundance of valuable resources at one's disposal. Poor is defined as having little or no money, goods or other means of support.
Our World population by the end of 2021 will be 8 billion (Worldometer). The estimated number of poor is around 1.4 billion!
Reflection
Heavenly Father, comfort my poor brothers and sisters throughout the world in their miserable plight and assist me in my daily efforts to help them. This I ask through your dearly beloved Son, Jesus Christ.
Prayer: Perseverance (St Alphonsus Liguori)
Our Dear Redeemer,
relying on your promises,
because you are faithful, all-powerful and merciful,
we hope, through the merits of your Passion,
for the forgiveness of our sins,
perseverance until death in your grace;
and at length, we hope, by your mercy,
to see and love you eternally in heaven.