Extract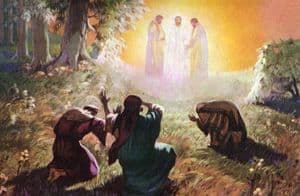 Jesus took Peter, James and John to Mount Tabor to be alone and pray.
On the mountain, Jesus became transfigured (i.e. changed in outward appearance). His face shone like the sun and his clothes became dazzling white. Moses and Elijah appeared, and a cloud overshadowed them. A voice from the cloud said, "This is my Son, the beloved. Listen to him". (Mark 9:8).
The disciples were overcome with fear.
Thought
We can easily assume the disciples spent many a moment reflecting on this special event. Although they were warned not to mention the occasion to anyone, they would have had endless lingering thoughts and questions; Jesus was truly the Son of God!
Reflection
Faith, hope and love transfigure us. Sin disfigures us!
Prayer: Love
Love is patient, love is kind.
It does not envy, it does not boast, it is not proud.
It is not rude, it is not self-seeking,
it is not easily angered, it keeps no record of wrongs.
Love does not delight in evil but rejoices with the truth.
It always protects, always trusts,
always hopes, and always perseveres.