Extract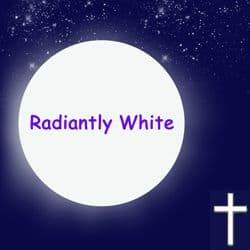 Jesus led the Apostles Peter, James and John to the top of a high mountain. There "his clothes became radiantly white, more so than any launderer in the world could bleach them. Then Elijah appeared before them along with Moses, and they were talking with Jesus". (Mark 9:3-4)
Thought
Why did Moses and Elijah appear with Jesus?
Their symbolic presence confirmed that Jesus was the Messiah. He was on earth to fulfil Old Testament Law and its many prophecies.
What were they talking about?
They talked about Jesus' ultimate rejection, crucifixion and resurrection. Indeed, it was only about a week earlier that Jesus first told his disciples of his fate; the elders, chief priests, and experts in the law will kill Him but after three days He will rise again. (Mark 8:31)
Reflection

(Prayer of Faith)
Almighty Father, the ever-living source of all that is good, keep me faithful in serving You. Help me to drink of Christ's Truth and fill my heart with His Love so that I may serve You in faith and reach eternal life.
Prayer: Lord My God (St Anselm of Canterbury)
O Lord my God.
Teach my heart this day,
where and how to find you.
You have made me and remade me,
and you have bestowed on me all the good things I possess,
and still, I do not know you.
I have not yet done that for which I was made.
Teach me to seek you,
for I cannot seek you unless you teach me,
or find you unless you show yourself to me.
Let me seek you in my desire;
let me desire you in my seeking.
Let me find you by loving you;
let me love you when I find you. Amen.