Extract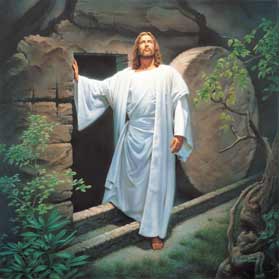 Mary Magdalene and the other women, having been told by an Angel that Jesus had risen from the dead, "Left the tomb quickly, with fear and great joy, and ran to tell his disciples".
On their way, Jesus appeared to them. To the shocked women, He said, "Do not be afraid". They embraced his feet and did him homage. (Matthew 28:8-9)
Thought
A great shock to Mary Magdelene and the other women but the Lord is always with us; ready to calm our fear and increase our joy.
Reflection
Lord Jesus, I pray that one day I will also arise from the dead, run towards you and embrace your feet.
Prayer: Abandonment (Charles de Foucauld)
Father, I abandon myself into your hands;
do with me what you will.
Whatever you may do, I thank you;
I am ready for all, I accept all.
Let only your will be done in me.
I wish no more than this, O Lord.
Into your hands I commend my soul:
I offer it to you with all the love of my heart,
for I love you, Lord, and so need to give myself,
to surrender myself into your hands without reserve
and with boundless confidence, for you are my Father.