Extract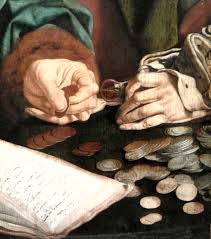 Jesus saw Matthew, also named Levi, sitting at a booth. He was a publican, a collector of taxes from the public. Jesus said to him, "Follow me". Matthew got up and followed him, leaving everything he had behind. (Luke 5:27-28)
Thought
My thanks to those who answer Jesus' call; the call to spread His Good News, help the poor, nurse the sick, tend the needy or, simply put others before themselves.
Reflection
Lord Jesus, thank you for the grace of good friends. May my love for them, see no boundaries.
Prayer: For All Needs (St Clement of Rome)
We beg you, Lord,
to help and defend us.
Deliver the oppressed.
Pity the insignificant.
Raise the fallen.
Show yourself to the needy.
Heal the sick.
Bring back those of your people who have gone astray.
Feed the hungry.
Lift up the weak.
Take off the prisoner's chains.
May every nation come to know that you alone are God,
that Jesus is your child,
that we are your people,
the sheep that you pasture. Amen.