Extract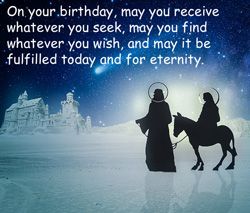 St John described John the Baptist in his Gospel as, "A witness to testify about the light so that everyone might believe through him. He himself was not the light, but he came to testify about the light." (John 1:7-8)
Thought
Hosanna, Hosanna… to the Son of David.
We are very privileged to be here today and able to celebrate the birthday of the "Light of the World", Jesus the Son of God.
Reflection
Lord Jesus, you are my light, a light that removes all darkness. Hear my repentant prayer and remove the barriers which prevent your light from illuminating my heart.
Prayer: Christmas (E B Pusey)
Good Jesus, born at this time
a little child for love of us;
be thou born in me,
that I may be a little child in love of Thee;
and hang on thy love as on my mother's bosom,
trustfully, lovingly, peacefully;
hushing all my cares in love of thee.
Good Jesus, sweeten every thought of mine
with the sweetness of thy love.
Good Jesus, give me a deep love for thee
that nothing may be too hard for me,
to bear for love of thee.