Extract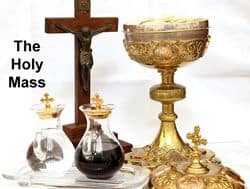 Jesus said to the crowd, "I tell you the solemn truth, the one who believes has eternal life. I am the bread of life". (John 6:47)
Thought
We were created to know, love and serve God. Understanding our own beliefs, through our daily conversation with God, is a necessary part of living.
What do I believe?
Reflection
Lord Jesus, enlighten my mind and enrich my understanding. May my belief in You be visible to others and a daily celebration in my prayers.
Prayer: Miracle Prayer
Lord, Jesus, I come before you, just as I am.
I repent of my sins, forgive me.
I give you my entire self.
I invite you into my life, Jesus.
I accept you as my Lord and Saviour.
Heal me, change me,
strengthen me in body, soul and spirit.
Cover me with your precious blood,
and fill me with your Holy Spirit,
I praise you, Jesus. I thank you, Jesus.