Gospel Extract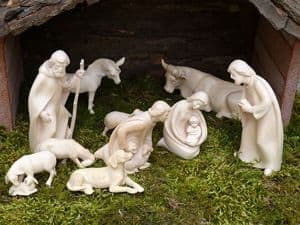 When the shepherds arrived at Bethlehem they found, "Mary and Joseph and the baby lying in the manger. When they saw this, they repeated what they had been told about Jesus and everyone who heard it was astonished at what the shepherds had to say.
As for Mary, she treasured all these things and pondered them in her heart". (Luke 2:16-19)
Thought
Mary, how surprised you must have been at the arrival of unknown shepherds but comforted by the watchful eye of Joseph and protected by God the Father Almighty.
Reflection
Make today special. Exchange a 'New Year Greeting' with Mary as you would with a dear friend.
Ask Mary to be your guide in all your works, actions and hopes for the New Year. Mary is always ready to help, as only a Mother knows how, so invite her to join you today and remain with you for the next 364.
Prayer
– Memorare
Remember O Most Gracious Virgin Mary,
that never was it known
that anyone who fled to Thy protection,
implored Thy help or sought Thy intercession,
was left unaided.
Inspired with this confidence,
I fly unto Thee O Virgin of Virgins, my Mother;
to Thee, I come; before Thee, I stand,
sinful and sorrowful,
O Mother of the word incarnate,
despise not my petitions;
but in Thy mercy hear and answer me. Amen.