Extract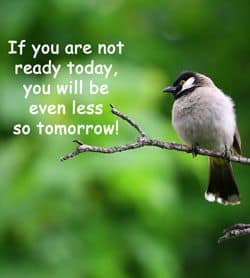 Jesus' many worldly predictions included his own untimely death, the destruction of Jerusalem and his second coming, our judgement day.
Jesus' death and resurrection occurred in 29/30 AD and Jerusalem was destroyed in 70 AD.
We do not know the day or hour of Jesus' second coming, "no one knows it – neither the angels in heaven nor the Son – [only] the Father". However, we do know that "the sun will be darkened and the moon will not give its light; the stars will be falling from heaven, and the powers in the heavens will be shaken. Then everyone will see the Son of Man arriving in the clouds with great power and glory". (Mark 13:24-26, 32)
Thought
Our short life is but a moment in God's timescale, His time has no end. Just as the timing of our death is unknown to us so also, will our judgement day but we will not miss it!
Reflection

(Extracts from Prayer by Cardinal Newman)
Lord Jesus, support me in my last hour by the strong arms of Thy sacraments and the fragrance of Thy consolations. Let Thy Mother Mary come to me, and my angel whisper peace to me, and Thy glorious saints and my own dear patrons smile on me, that in and through them I may die in Thy Church, in Thy faith, and in Thy love. Amen.
Prayer: Mary
O Most Pure Heart of Mary,
you are full of goodness.
Show us your love.
Let the flame of your heart, O Mary,
descend on all people.
Mary, we love you.
Impress on our hearts, true love,
so that we may long for you.
O Mary, gentle and humble of heart,
remember us in our greatest needs. Amen.