Extract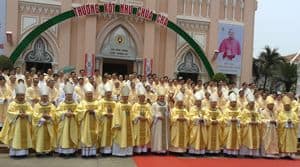 Jesus said, "For where two or three are assembled in my name, I am there among them". (Matthew 18:20)
Thought
Jesus lives among us in moments of happiness and sadness, conflict and peace, day and night; he waits for us to speak to him!
Reflection
Lord Jesus, look with kindness on our work today, as together we strive to make your world a better place.
Prayer: Most Sacred Heart of Jesus (From Akita Prayer)
Most Sacred Heart of Jesus,
truly present in the Holy Eucharist,
I consecrate my body and soul
to be entirely one with Your Heart.
Receive this humble offering of myself.
Use me as You will for the glory of the Father
and salvation of souls.
Most Holy Mother of God,
never let me be separated from Your Divine Son.
Defend and protect me as Your special child. Amen.