Extract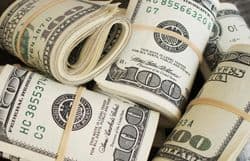 A group of people tried to trap Jesus. They asked him, "Is it right to pay taxes to Caesar or not?" Jesus, recognising their trick question responded, "Give to Caesar the things that are Caesar's and to God the things that are God's". (Matthew 22:17b, 21b)
Thought
It's amazing how we are often unable to accept Jesus' message unless it has a dollar value! The question, what's in it for me, remains a quick response to many routine requests from others for help. But Jesus didn't ask for money!
Reflection
Lord Jesus, stir our hearts so that today, we will eagerly strive to use the gifts you have already bestowed on us to do good among your people.
Prayer: Miracle Prayer
Lord, Jesus, I come before you, just as I am.
I repent of my sins, forgive me.
I give you my entire self.
I invite you into my life, Jesus.
I accept you as my Lord and Saviour.
Heal me, change me,
strengthen me in body, soul and spirit.
Cover me with your precious blood,
and fill me with your Holy Spirit,
I praise you, Jesus. I thank you, Jesus.