Extract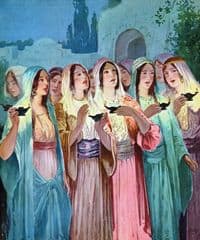 In the Parable of the Ten Virgins, Jesus described five of them as foolish because they didn't have enough oil for their lamps; they had gone to buy more when the Bridegroom arrived and only those who were ready were allowed inside for the Wedding Banquet.
Jesus said, "Stay awake, for you know neither the day nor the hour". (Matthew 25:1-13)
Thought
The Virgins Parable has a clear message for everyone; if we are not ready at the point of our death, free from mortal sin, we will miss out on His Great Wedding Feast i.e. eternal happiness in heaven!
Reflection
Lord Jesus, help me to put the needs of my soul first. Give me the wisdom to see that my greatest priority is You. Lord hear my prayer.
Prayer: The Sick
Father, your Son accepted our sufferings,
teaching us the virtue of patience in human illness.
Hear the prayers we offer for our sick brothers and sisters.
May all who suffer pain, illness or disease
realise that they are chosen to be Saints,
and know that they are joined to Christ
in his suffering for the salvation of the world.