Extract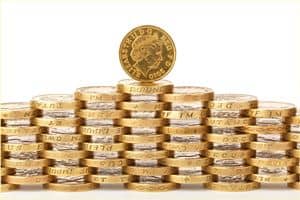 In the Parable of the Gold Coins, Jesus described an overjoyed Nobleman who returned from a distant country and received, from one of his servants, twenty gold coins in return for trusting him with just ten while he was away.
The Nobleman said, "Well done, good servant. You have been faithful in this very small matter; take charge of ten cities". (Luke 19:17)
Thought
A young elementary school student described the meaning in the parable like this:
"Every servant was being tested by their boss. He wanted to know if they loved Him; if they could double his gold… and you can double his gold by doing lots of good…!
If so, he would take them up to heaven; if not, well…, I don't know what God would be bothered to do!"
Reflection
Lord Jesus, your love links earth to heaven. Lift my eyes to see your glory so that where You are, I may be also.
Prayer: An Invitation (Dietrich Bonhoeffer)
O God, help me to fully accept your invite,
and concentrate only on you:
I cannot do this alone.
In me there is darkness but with you there is light.
I am lonely but you do not leave me.
I am feeble in heart but with you there is help.
I am restless but with you there is peace.
In me there is bitterness but with you there is patience.
I do not understand your ways but you know mine.
O God, restore me to liberty,
and enable me so to live now
that I may answer before you and before me.
Lord, whatever this day may bring,
may your name be praised forever.