Extract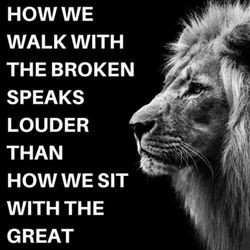 Jesus said, "Everyone who exalts himself will be humbled, but he who humbles himself will be exalted". (Luke 18:14)
Thought
A child's explanation to me of Jesus' comment went like this:
"Many of us are regular sinners but we can change; don't go around continuously praising yourself, be quiet and humble, and treat others as a friend and equal. Remember, God made everyone and loves everyone the same".
Reflection
Lord Jesus, guide me in your humble ways. Grant me the grace to see everyone as your creation; a brother or a sister.
Prayer: Trust in Jesus (St Ignatius of Loyola)
Christ Jesus,
when all is darkness
and we feel our weakness and helplessness,
give us the sense of Your presence,
Your love, and Your strength.
Help us to have perfect trust
in Your protecting love
and strengthening power,
so that nothing may frighten or worry us,
for, living close to You,
we shall see Your hand,
Your purpose, Your will through all things.