Extract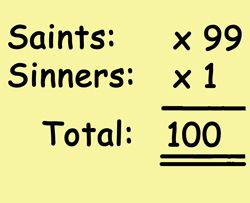 Jesus asked his disciples, "If someone owns a hundred sheep and one of them goes astray, will he not leave the ninety-nine on the mountains and go look for the one that went astray?" (Matthew 18:12)
Thought
Jesus welcomed sinners. The lost sheep symbolised a sinner so, the "shepherd" went looking for it.
Most of us have a lifelong shepherding role to someone! We must keep encouraging and helping them back into the flock.
Reflection
Lord Jesus, grant me the grace to put others before myself, especially members of my own family.
Prayer: Before a Crucifix
Behold, O Kind and Most Sweet Jesus,
I fall upon my knees in Thy sight,
and with the most fervent desire of my soul,
I pray and beseech Thee
to impress upon my heart
lively sentiments of faith, hope and charity,
with true repentance for my sins,
and a firm desire of amendment.
Whilst with deep affection and grief of soul,
I ponder within myself and mentally contemplate
Thy five most precious wounds,
having before mine eyes that which David the prophet spoke,
O Good Jesus: "They have pierced my hands and feet,
they have numbered all my bones." Amen.