Extract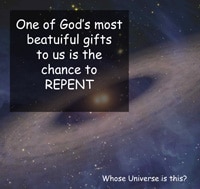 Jesus engaged the attention of his disciples by asking them, "How think ye?" and then adding, "If someone owns a hundred sheep and one of them goes astray, will he not leave the ninety-nine on the mountains and go look for the one that went astray?" (Matthew 18:12)
Thought
Jesus shared this simple parable on multiple occasions, sometimes with subtle changes, to different audiences – young, old, Jews, Gentiles, converted, questioning…!.
The single isolated sheep represented a lost sinner which Jesus had come on earth to save. Interestingly, however, the parable symbolically infers that the other ninety-nine sheep were loyal listeners to his Gospel. That's great news!
Reflection
Lord Jesus, hear my prayers, listen to my troubles, protect me from all that is evil and keep me attached to your listening flock, your endless love.
Prayer: Psalm 63
O God, you are my God, for you I long:
For you, my soul is thirsting.
My body pines for you
like a dry, weary land without water.
So I gaze on you in the sanctuary
to see your strength and your glory.
For your love is better than life,
my lips will speak your praise.
So I will bless you all my life,
in your name, I will lift up my hands.
My soul shall be filled as with a banquet,
my mouth shall praise you with joy.
At night, I remember you.
On you, I muse through the night
for you have been my help;
in the shadow of your wings, I rejoice.
My soul clings to you;
your right hand holds me fast.