Extract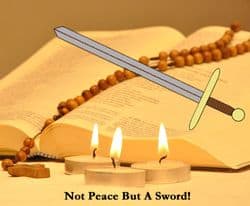 Jesus said to his disciples, "Do not think that I have come to bring peace to the earth. I have not come to bring peace but a sword". (Matthew 10:34)
Thought
Jesus was a peace-maker between God and sinners through His death on the Cross.
The symbolic "sword", Jesus was referring to was His Gospel. Although a Gospel of Love, he predicted that not everyone would accept it and families would be divided, "a man against his father, a daughter against her mother, and a daughter-in-law against her mother-in-law". (Matthew 10:37)
Reflection
Lord Jesus, open the hearts of divided families in my community to the wonders of your beautiful Word.
Prayer: Most Sacred Heart of Jesus (From Akita Prayer)
Most Sacred Heart of Jesus,
truly present in the Holy Eucharist,
I consecrate my body and soul
to be entirely one with Your heart,
Receive this humble offering of myself.
Use me as You will for the glory of the Father
and salvation of souls.
Most Holy Mother of God,
never let me be separated from Your Divine Son.
Defend and protect me as Your special child. Amen.