Extract
When Cleophas and another of Jesus' disciples were about seven miles outside Jerusalem, on the way to Emmaus, the Risen Jesus joined them but they didn't immediately recognise Him.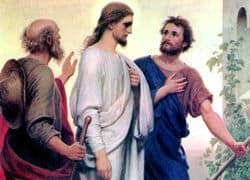 Jesus asked them what they were so intently talking about. So surprised they were at his question that they stopped walking and Cleophas questioned Jesus saying, "Are you the only visitor to Jerusalem who doesn't know the things that have happened there in these days?"
After the two disciples recounted Jesus' arrest, torture, crucifixion and now his empty tomb, Jesus said to them, "You foolish people – how slow of heart to believe all that the prophets have spoken! Wasn't it necessary for the Christ to suffer these things and enter into his glory?" (Luke 24:13-26)
Thought
The Risen Jesus rebuked the disciples' weakness of faith in the Prophets and Old Testament Scripture; "You foolish people," he told them.
Do we also need to take more notice of Scripture?
Reflection
Lord Jesus, guide me in your loving ways to a greater understanding of your teachings.
Prayer: Solace
May Christ support us all the day long,
till the shadows lengthen,
and the evening comes,
and the busy world is hushed,
and the fever of life is over
and our work is done.
Then in his mercy
may he give us a safe lodging,
and holy rest
and peace at the last. Amen.