Extract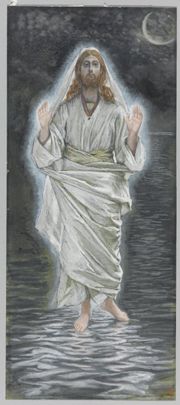 When the terrified disciples saw "someone" coming towards them, walking on water, Jesus said to them, "It is I, do not be afraid". (John 6:20)
Thought
Jesus used the same comforting words, "Do not be afraid," on many occasions with his disciples. A compassionate Jesus was saying, God is with you, everything is possible with God, even death has no power.
Reflection
Lord Jesus, in my times of trouble and fear, remind me of your gentleness and warmth. May I find strength, through the power of your Holy Spirit, to abandon myself to your promises.
Prayer: Holy Spirit (St Catherine of Siena)
Holy Spirit, come into my heart;
draw it to Thee by Thy power, O my God,
and grant me charity with filial fear.
Preserve me, O beautiful love, from every evil thought;
warm me, inflame me with Thy dear love,
and every pain will seem light to me.
My Father, my sweet Lord, help me in all my actions.
Jesus, love, Jesus, love. Amen.