Extract

:

Peter, probably reflecting on the sacrifices he had made to be with Jesus said to Him, "Look, we have left everything to follow you!"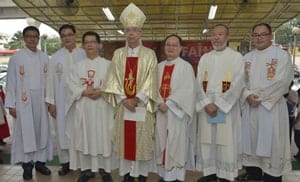 Jesus replied, "I tell you the truth, there is no one who has left home or brothers or sisters or mother or father or children or fields for my sake and for the sake of the gospel who will not receive in… the age to come, eternal life… many who are first will be last, and the last first." (Mark 10: 28-31)
Thought
Why are fewer people willing to become Priests and Religious today?
Do I encourage others? Do I warmly recommend Priesthood or a Religious life to young people?
Reflection
Lord Jesus, open my eyes to the cry of your people who have not heard your Gospel and grant to them inspirational leaders who will guide them to eternal life.
Prayer: Vocations

(Cardinal Joseph Bernadin 1928-1996)


Lord of the harvest,
your Word finds a home in our heart,
calls us into community,
and invites us to generous service of the human family.
Bless with courage and spirit your priestly people,
called to full participation in the one Body of Christ.
May many choose to respond in public service
to your call offered in Jesus' name. Amen.