Extract: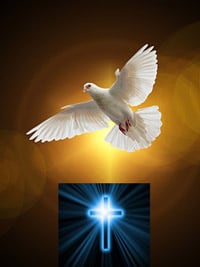 Before Jesus ascended to Heaven, He said to his disciples, "If you love me, you will obey my commandments. Then I will ask the Father, and he will give you another Advocate to be with you forever – the Spirit of truth". (John 14: 15-17)
Thought
The disciples were assured, if they accepted and adhered to Jesus' commandments, of the great gift of the Holy Spirit.
It's also available to me through the sacraments but, like the disciples, I must keep Jesus' commandments!
Reflection
Lord Jesus, guide me through the difficulties I will encounter today, steer me away from temptation and grant me a deeper understanding of your love for me. Amen.
Prayer: Most Holy Spirit
Most Holy Spirit, beloved of my soul, I adore You.
Enlighten me, guide me, comfort me, console me.
I promise to submit myself to all You desire of me,
and permit all You wish to happen to me.
Give me Your help, tell me what to do.
Most Holy Spirit, bring peace to my world. Amen.