Extract

: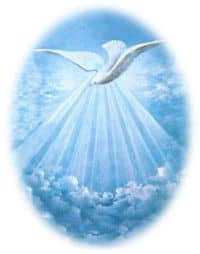 It was on the final day of the Jewish Feast of Tabernacles in Jerusalem.
Jesus stood up and shouted out to the people, "If anyone is thirsty, let him come to me, and let the one who believes in me drink".
Jesus said "this about the Spirit, whom those who believed in him were going to receive, for the Spirit had not yet been given, because Jesus was not yet glorified. (Luke 7:37-39)
Thought
Jesus' disciples humbly and patiently waited in prayer for the Holy Spirit to descend upon them; the occasion was Pentecost.
If we desire to receive the Holy Spirit, we can do so through the sacraments. A beautiful gift from Jesus.
Enjoy Jesus' companionship in one or more of the sacraments today, this week or asap.
Reflection
Come Holy Spirit, fill my heart and enkindle in it the fire of your sacred love.
Prayer: Poor – Daily Service
Most Holy Spirit, beloved of my soul, I adore You.
Enlighten me, guide me, comfort me, console me.
I promise to submit myself to all You desire of me, and permit all You wish to happen to me. Give me Your help, tell me what to do. Most Holy Spirit, bring peace to my world. Amen.