Extract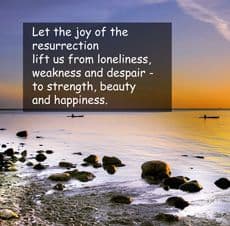 Jesus said to Martha, "I am the resurrection and the life. The one who believes in me will live even if he dies, and the one who lives and believes in me will never die". (John 11:25, 26a)
Thought
Jesus, thank you for paying for my sins. Through your death and resurrection, You have opened the way for my eternal happiness.
Reflection
Lord Jesus, kindle in my heart the great hope of getting to know you better and bringing your Gospel to others.
May the fruit of my work today be a cause of great joy as I journey to my resurrection.
Prayer: The Grace to Forgive
Lord Jesus, give me the strength to forgive.
Purify my heart and mind.
Bestow your grace on my weaknesses and failings.
Open my life to your true and endless love. Amen.