Extract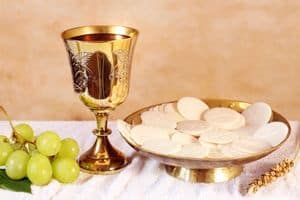 Jesus said to the crowds that gathered to hear his teachings and see wondrous signs, "I am the bread of life; whoever comes to me will never hunger, and whoever believes in me will never thirst". (John 6:35)
Thought
We must strive to avoid being no different from the crowds who gathered to hear Jesus! Many of them didn't want his spiritual sustenance, they wanted food to eat and money to live the good life!
Reflection
Lord Jesus, increase my understanding of you. Help me to seek you for your sake, not my material short-term desires.
Prayer: Mary
O Most Pure Heart of Mary,
you are full of goodness.
Show us your love.
Let the flame of your heart, O Mary,
descend on all people.
Mary, we love you.
Impress on our hearts, true love,
so that we may long for you.
O Mary, gentle and humble of heart,
remember us in our greatest needs. Amen.