Extract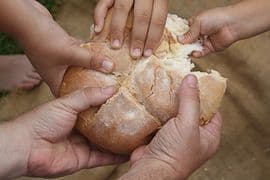 Jesus said, "Give to the one who asks you and do not reject the one who wants to borrow from you". (Matthew 5:41)
Thought
We are possessive by nature; it is usually easier to collect than to give!
Yet, most people would agree that they get more longer-lasting joy from giving than receiving!
Reflection
Lord Jesus, open my heart to the cry of the poor. Help me to be more understanding of their plight. May I never turn my back on my hungry brothers and sisters.
Prayer: My Life (St Theresa of Lisieux)
My life is but an instant, a passing hour.
My life is but a day that escapes and flies away.
O my God, you know that to love you on earth
– I only have today.
Lord, what does it matter if the future is gloomy?
To pray for tomorrow, O no, I cannot!
Keep my heart pure, cover me with your shadow
– Just for today.
O Divine Pilot, whose hand guides me.
I'm soon to see you on the eternal shore.
Guide my little boat over the stormy waves in peace
– Just for today.