Extract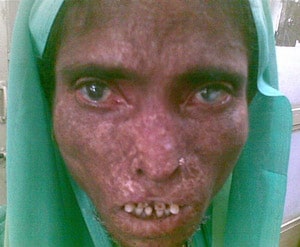 When a man, "covered in leprosy" saw Jesus, "he bowed down with his face to the ground and begged him, 'Lord, if you are willing, you can make me clean'."
Jesus stretched out his arm, touched him and said, "I am willing. Be clean". Immediately the man was healed. (Luke 5: 12-16)
Thoughts
The man had no doubt whatsoever that Jesus could heal him. His only doubt seemed to be whether Jesus was willing to heal him from his dreaded disease!
Reflection
Lord Jesus, heal me from my sins, remove from my thoughts all feelings of doubt and fear. Help me to see only your endless love for all of God's magnificent works. Amen.
Prayer:
Be at Peace (St Francis de Sales)
Do not look forward in fear to the changes in life;
rather, look to them with full hope that as they arise,
God, whose very own you are,
will lead you safely through all things;
and when you cannot stand it,
God will carry you in His arms.
Do not fear what may happen tomorrow;
the same understanding Father who cares for you today
will take care of you then and every day.
He will either shield you from suffering
or will give you unfailing strength to bear it.
Be at peace,
and put aside all anxious thoughts and imaginations.