Extract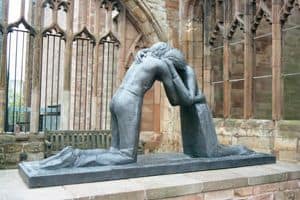 After Jesus' death and resurrection, he appeared to his disciples on many different occasions.
On one, most of them were together, afraid and hiding. He greeted them saying, "Peace be with you" and after showing them his pierced side and hands He breathed on them and said, "Receive the Holy Spirit. If you forgive anyone's sins, they are forgiven; if you retain anyone's sins, they are retained". (John 20:19,22-23)
Thought
At that special moment, Jesus gave his Apostles the power, through Him, to forgive people's sins just as he had done while on earth; the sacrament of penance or reconciliation was established by our merciful and loving Jesus.
Reflection
Saviour Jesus, thank you for the blessing to bring, 'peace to my soul'. May I always be as compassionate and forgiving to those who hurt me or are in need of my help.
Prayer: Miracle Prayer
Lord, Jesus, I come before you, just as I am.
I repent of my sins, forgive me.
I give you my entire self.
I invite you into my life, Jesus.
I accept you as my Lord and Saviour.
Heal me, change me,
strengthen me in body, soul and spirit.
Cover me with your precious blood,
and fill me with your Holy Spirit,
I praise you, Jesus. I thank you, Jesus.