Extract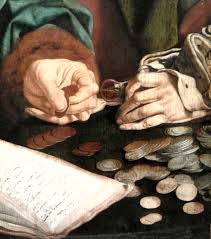 Jesus sought every opportunity to talk to people and share Gods message. He was happy to sit and eat with all levels of sinners and the rejected.
St Matthew, a despised tax collector and perceived sinner, was chosen by Jesus to be one of his small group of special people, the Twelve Apostles.
Jesus' response to those who questioned why he did this was, "I did not come to call the righteous, but sinners". (Matthew 9:13b)
Thought
Lord Jesus, it's good to know that there is a place for everyone at your table, I am a sinner!
Reflection
Almighty Father, with your grace, my heart will be cleansed and my actions renewed. May everything that I do today, please you a little bit more than yesterday.
Prayer: Beatitudes
Happy are the poor in spirit, for theirs is the kingdom of heaven.
Happy are the meek, for they shall inherit the earth.
Happy are those who mourn, for they shall be comforted.
Happy are they who hunger and thirst for righteous sake, they shall be satisfied.
Happy are the merciful, for they shall obtain mercy.
Happy are the clean of heart for they shall see God.
Happy are the peacemakers, for they shall be called children of God.
Happy are they who suffer persecution for justice's sake, for theirs is the kingdom of heaven. Amen.