Extract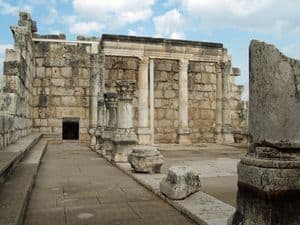 Inside the synagogue in Capernaum, "There was a man … with an unclean spirit, and he cried out [to Jesus], 'Leave us alone, Jesus the Nazarene'! Have you come to destroy us? I know who you are – the Holy One of God!"
Jesus rebuked the spirit saying: "Silence! Come out of him!".
The unclean spirit threw the man to the floor and left. (Mark 1:23-25)
Thought
Had I been in the Synagogue when Jesus performed this miracle, I wonder, how would I have reconciled the words of the unclean spirit with the spirit leaving at Jesus' command!
Reflection
Lord Jesus, may I proudly proclaim that you are the Holy one of God to others, through my every action today.
Prayer
–

Teach Us
Teach us Good Lord;
To serve you as you deserve;
To give and not to count the cost;
To fight and not to heed the wounds;
To toil and not to seek for rest;
To labour and to ask for no reward,
Save that of knowing we do your will.