Extract
Jesus said to the people, "Let the little children come to me … for the kingdom of God belongs to such as these. I tell you the truth, whoever does not receive the kingdom of God like a child will never enter it". (Mark 10:14-15)
Thought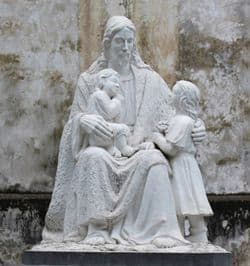 As we grow old, it is easy to forget the innocence of our childhood years.
When we were children we asked our parent's many thousands of questions and we had total trust in their answers. Our parent's reward was often, just our loving smile.
Today a slightly different question could perhaps apply; do I still have total trust in my preparations for the Kingdom of God?
Reflection
Lord Jesus, may your Holy Spirit guide me in my wayward ways. Help me to be a trusting and faithful disciple of your Word.
Prayer: Christian Unity (John Henry Newman)
Lord Jesus Christ,
when you were about to suffer,
You prayed for your disciples that they might all be one,
as you are in the Father, and the Father in you.
Look down in pity on the many divisions
among those who profess your faith.
Heal the wounds which the pride of man
and the craft of satan have inflicted on your people.
Break down the walls of separation which divide Christians.
Look with compassion on all souls and bring them together
under the one Church.