Extract

: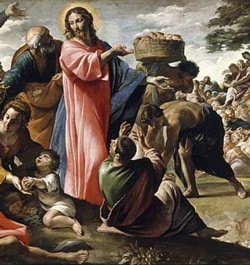 While John the Baptist was in prison (Matthew 11: 2), he sent two of his disciples to ask Jesus, "Are you the one who is to come, or should we look for another?"
The elated disciples returned to John with Jesus' reply, saying: "Go tell John what you have seen and heard: The blind see, the lame walk, lepers are cleansed, the deaf hear, the dead are raised, the poor have good news proclaimed to them. Blessed is anyone who takes no offence at me." (Luke 7: 18b-23)
Thought
John sent his disciples to Jesus for their own benefit, to hear Jesus' teachings and see his miraculous works.
After all, John had already proclaimed Jesus to be the "Lamb of God" at Jesus' baptism in the Jordan. (John 1: 29)
Reflection
Lord Jesus, fill my heart with your Gospel teachings and open my eyes to the many small daily blessings that you grant to me. Amen.
Prayer: Priests and Religious
St Paul, great convert and Apostle,
guide all priests and religious.
Help them realise that their actions
speak louder than any words.
Teach them to use their talents
to convey God's message
but, to rely above all,
on the promptings of the Holy Spirit. Amen.