Extract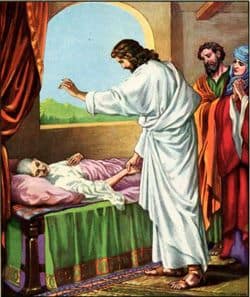 Jesus performed numerous miracles, partly to help strengthen our faith.
Once Jesus visited the home of Simon whose mother-in-law was sick with a fever. Jesus, "Raised her up by gently taking her hand and the fever left her". (Mark 1:31)
Thought
It is through daily prayer and good works that our faith grows stronger, just as it was for the Apostles.
Reflection
Lord Jesus, you have sown the Word of eternal life in my heart. Grant that I may continue to spread it to others and remain forever faithful in your service.
Prayer
–

Miracle Prayer
Lord, Jesus, I come before you, just as I am.
I repent of my sins, forgive me.
I give you my entire self.
I invite you into my life, Jesus.
I accept you as my Lord and Saviour.
Heal me, change me,
strengthen me in body, soul and spirit.
Cover me with your precious blood,
and fill me with your Holy Spirit,
I praise you, Jesus. I thank you, Jesus.