Extract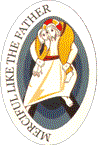 Jesus said, "Be merciful, just as your Father is merciful. Do not judge, and you will not be judged; do not condemn, and you will not be condemned; forgive, and you will be forgiven. Give and it will be given to you". (Luke 6:36-38)
Thought
Jesus reminded us many times, to do to others as we hope God our Father will do to us; put others first!
Reflection
Lord Jesus, may my actions bear witness to the faith I profess, and excuses find no resting place within my heart.
Prayer: Light (Gospel Extracts)
The light of God surrounds me,
the love of God enfolds me,
the power of God protects me,
the presence of God watches over me,
wherever I am, God is,
and where God is, all is perfect.