Extract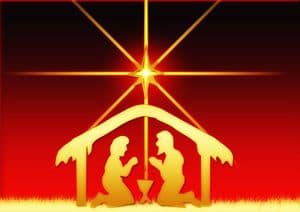 In obedience to an order by Caesar Augustus to register for empire taxes, St Joseph travelled to Bethlehem with Mary.
"While they were there, the time came for her to deliver her child. And she gave birth to her firstborn son and wrapped him in strips of cloth and laid him in a manger because there was no place for them in the Inn". (Luke 2:6-7)
Thought
Happy Birthday, Lord Jesus. May it be filled with the rewards of our world's conversion to your Gospel News.
Reflection
Almighty Father, you so loved the world that you sent your only Son to save us. Open my heart to your merciful devotion to me. I love You, Lord Jesus.
Prayer: Trust In Jesus (St Ignatius of Loyola)
O Christ Jesus,
when all is darkness
and we feel our weakness and helplessness,
give us the sense of Your presence,
Your love, and Your strength.
Help us to have perfect trust
in Your protecting love
and strengthening power,
so that nothing may frighten or worry us,
for, living close to You,
we shall see Your hand,
Your purpose, Your will through all things.