Extract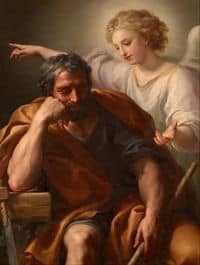 An Angel of the Lord appeared to Joseph saying, "The child conceived [in Mary] is from the Holy Spirit. She will give birth to a son and you will name him Jesus because he will save his people from their sins". (Matthew 1:20-21)
Thought
It was an extremely traumatic time for Joseph and Mary but God Our Father was caring for all three!
Today, He still cares for the world. Yip, you and I!
Reflection
St Joseph, I pray that today I will find the strength to carry my small burden with a smile, knowing you are guiding and supporting me. St Joseph, touch my heart, ask Jesus to grant me the grace to understand and accept my world with happiness.
Prayer: Solace
May Christ support us all the day long,
till the shadows lengthen,
and the evening comes,
and the busy world is hushed,
and the fever of life is over
and our work is done.
Then in his mercy
may he give us a safe lodging,
and holy rest
and peace at the last. Amen.