Extract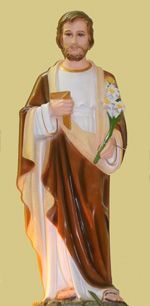 When Joseph heard that Mary, whom he intended to marry, was already pregnant, he planned to divorce her. However, an Angel of the Lord appeared to him in a dream and said, "Joseph, son of David, do not be afraid to take Mary as your wife, because the child conceived in her is from the Holy Spirit. She will give birth to a son and you will name him Jesus because he will save his people from their sins." (Matthew 1:18-24)
Thought
Joseph put God's plan first. Quickly and without argument, and pushing aside the possibility of ridicule from his community, he proudly accepted Mary as his wife.
Reflection
Almighty Father, help me to act responsibly at all times and give freely of my love to everyone whom I encounter throughout my life. This I ask through your beloved Son, Jesus Christ. Amen.
Prayer: Love (St Richard)
Thanks be to Thee, my Lord Jesus Christ, for all the benefits Thou hast given me, for all the pains and insults Thou hast borne for me.
O Most Merciful Redeemer, friend and brother, may I know Thee more clearly, love Thee more dearly and follow Thee more nearly.