Lord Jesus, look kindly on my work and the work of my friends today.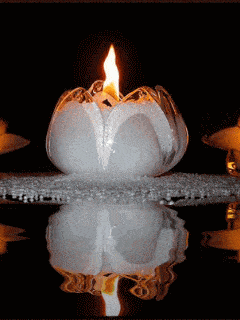 Help us in our difficulties and decisions.
May this candle be a light for you to enlighten me. May it be a fire for you to burn out of me all pride, selfishness and impurity. May it be a flame for you to bring warmth into my heart; warmth towards my family, my neighbours and all whom I meet.
~~~ ~~~ ~~~
Jesus, through the hands of Mary, Virgin and Mother, I place in your care, this, my special intention… (Share your request…)
By sharing this candle, I wish to give you something of myself; the love in my heart.
Jesus, help me to live close to you in prayer today. 
… Thank You, Jesus. Amen. …
---
Prayer Request Box
Note: Website users private prayer intentions, are automatically included in our Daily Novena and Monthly Masses.

However, if you still wish to submit a written request to our Prayer Group, do so below (Max 130 characters):
Recent Requests
Keep the 39 migrants who died in the dormitory fire in Mexico in your prayers today. Pray also for their families.

This Easter, pray for the Holy Souls in purgatory. Have mercy on our families who have departed this life.

Pray for all suffering migrants, those who have left their country due to the tyranny of others.

For the Flame of Love rosary group malaysia to be recognized as a important part of the Church and our bishops to say yes .

Have mercy on the three 9yr olds, the Teacher, Headteacher and Caretaker at the Covenant School. May they RIP.

Lord Jesus, support the grieving children, staff and families from The Convenant School, Nashville in their agony.

For the beautiful children cruely taken from this life in the Nashville shooting today. May the Angels and Saints sing their glory

A happy and joyous Easter throughout the World for everyone.

For all Priests and Religious that they will inspire their people in Jesus's Easter as they celebrate in His crucifixion.

For all who protect their country and give their life for peace across the world.

Join me in praying for TW, BD, MM, PD, PW, SM, PM, FM, FS and all my relatives and friends who have passed away. RIP All.

During this most holiest of weeks, let us pray together for peace in Israel and Palestine, Jesus' homeplace.

Ask Jesus to help me describe my feelings more openly to my friends.

Let Us Pray for peace and common sense among all people in my home country, France.

Bring more happiness to me and my brothers at school.

Be merciful Jesus on the many families, the 26 killed and those whose homes were destroyed in the Mississippi tornado. TY.

God, grant me the wisdom to make the right decisions today. May everything that I do be for your great glory.

Help me Lord, and all parents, to keep my children on the path of faith in You.

Sing Glory to God with his Angels and Saints, and pray we will all join them.

May the souls of all my dearly departed family rest in peace.

Pray for all cancer sufferers especially those with no remission. Pray for Toni.

Pray with me for all the people I have hurt in my life. Have mercy Lord.

A prayer for Tersca who got more bad news

Include the hungry in your prayers please.

Pray for the helpers, care assistants and teachers striving to nurture all of God's children in His ways.

Pray for our Special Needs children. 🙏

Pray for the tired and weary, pray for me that I will find the energy and enthusiasm to help others who call.

Many parents and children are living in the middle of wars, grant them a little extra joy and happiness today Lord, I ask.

Pray I will find peace in my marriage. Lord, bring us greater understanding of each other in our home life.

Help me Lord in my decision-making as I struggle to choose what to do when I finish College at the end of this year.