The Poor

Lord Jesus, we pray,
that the flames of your Divine love
may burn away all traces of vice within us,
and that we may be practical and zealous
in the service of the poor. Amen.
Generous St Lawrence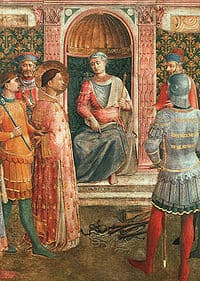 O Generous patron of the Church's poor, St. Lawrence, pray to the One God, Father, Son and Holy Spirit that all the poor of the Church in need in every corner of the world may feel the effect of the love of their brothers and sisters who seek to help them.
Deliver the Church from the greed and envy of the powerful and protect her rights and property so that she may serve the needy in freedom, giving them good things for soul and body.
May we come some day with all those whom we helped on earth to the bright mansions of heaven where we will enjoy the riches of God's house and the company of the Savior who lives and reigns forever and ever. Amen
Glorious St Lawrence

O Glorious Saint Lawrence, Martyr and Deacon, who, being subjected to the most bitter torments, did not lose your faith nor your constancy in confessing Jesus Christ, obtain in like manner for us such an active and solid faith, that we shall never be ashamed to be true followers of Jesus Christ, and fervent Christians in word and in deed, even in spite of trials, persecutions, or the sword. Amen.
… St Lawrence of Rome, Pray for Us …